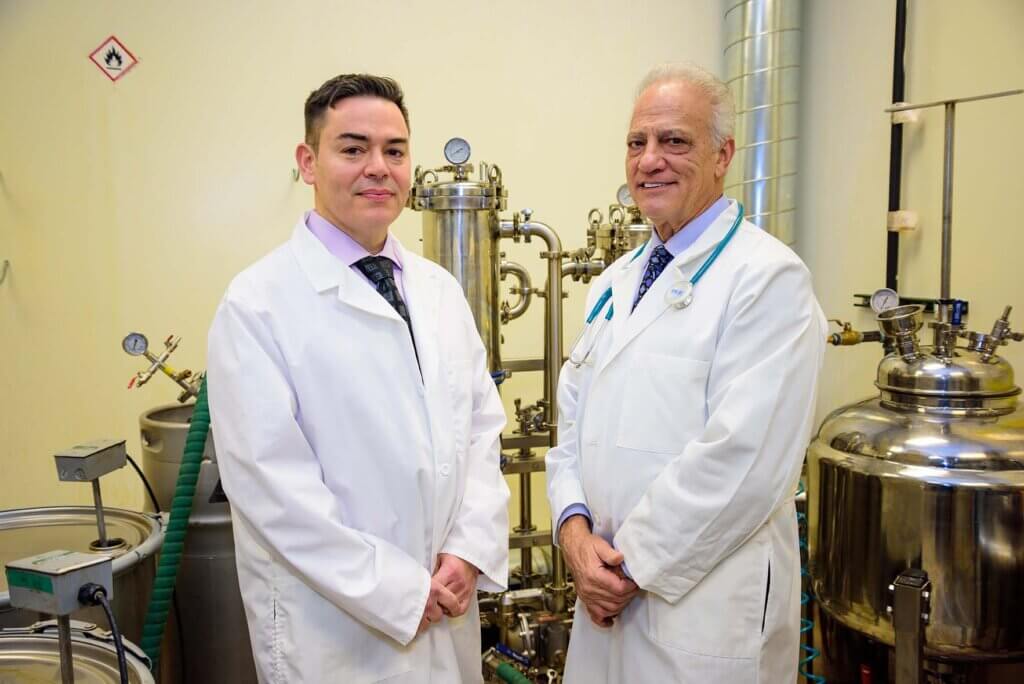 When Dawn and Dr. Mark Albert and Marlene and Dr. Sam Sebastianelli founded their Dunmore-based business CBD Intact two years ago, they did it with the firm belief that their line of hemp-produced CBD (cannabidiol) products carried genuine health benefits for those suffering from chronic pain, anxiety and sleeplessness.
The couples knew they had a first-rate product line with solid scientific research behind it, and business was booming until early 2020, when the COVID-19 pandemic brought foot traffic to a virtual standstill. The months afterward were trying, to say the least. All was not lost however, when in August, the store received a phone call from a representative of Shark Discoveries, a subsidiary of the hit ABC program, Shark Tank, which works with selected entrepreneurs to assist in marketing their products to a broader audience.
"The day they called; I thought it was a telemarketer and didn't believe what I was hearing," said Marlene. "But as we talked more, and I received verification from other sources; I learned that they were ultimately a legitimate company."
"Apparently, Shark Discoveries was looking to partner with a CBD business for their new year/new you programming; and we fit well with their model," said Dawn, who was shocked by the good news. "I feel, that because we have both a doctor and pharmacist on staff; we are qualified to offer unique services other than just sales and this appealed to them. Although we were selected," Dawn continued, "we still had to go through a rigorous process, including a final approval from Kevin Harrington, one of the original panelists/investors of Shark Tank."
Mark, a longtime area physician not only recommends CBD products for his patients being treated for opioid addiction, but also uses them himself. "There is a continually growing body of research that shows CBD have real medical benefits, and there is a general sense of well-being you get after consistent use of them," he said. "CBD has been shown to augment the immune system, which can be taxed by stress, allergies, and communicable disease."
"In fact, there are more CBD receptors in your body than serotonin receptors. Even if you take a low dose, you'll saturate your receptors and get a general sense of wellbeing. But you have to try it and keep at it, and for about two out of three people, something beneficial is going to happen," Mark said.
"Based on the most current data, CBD is an excellent form of complementary medicine," added Sam Sebastianelli, a local pharmacist. "It is not a miracle cure by any means, but for those whose bodies are either not producing enough of their own endogenous CBD, or not utilizing it effectively, supplementation can help."
The couples wanted to have strict control over the entire process from seed to shelf, so they partnered with Mayfield-based Agri-Hemp which not only farms the hemp, but also extracts the CBD from the plants, purifies it, and infuses it into a variety of dosage forms which they manufacture. All the CBD products are grown in the USA and are 3rd party tested and come with certificates of analysis that could be tendered upon request.
"Because all our CBD products come directly from the local manufacturer and not from some wholesaler across the country, our costs and therefore, our selling prices are significantly lower than other brands," added Dawn.
CBD Intact's extensive product line includes oils, capsules, pain creams, gummies, shampoos, and orally dissolvable tablets (ODTs) the latter of which was developed exclusively for CBD Intact.
CBD Intact also carries a selection of pet products such as flavored treats and tinctures which help with conditions such as arthritis, anxiety, and itching. They have a practicing, contemporary veterinarian who is an advocate for the use of CBD in animals. He lectures all over the country and engages on CBD Intact's website.
Another important distinction that sets CBD Intact apart from other businesses is its commitment to proper dosing. Dr. Albert has developed a series of charts which a patient could consult to determine the most efficacious dose for their particular condition. Also, they offer a chat line that allows customers to speak to a qualified representative regarding specific dosing questions.
Undoubtedly, CBD Intact's customers appreciate that level of service, which is among the reasons that the business had got off to a promising start before the pandemic. "We were considering turning the store into an online venture only," said Marlene, "but then the call came from Shark Discoveries, upending everything – in the best possible way."
"Our customers are already spreading the word about it," said Dawn, "they are just as excited about the partnership as we are. Our goal is to help as many patients suffering from chronic pain, anxiety and insomnia as possible, and we believe Shark Discoveries will be instrumental in reaching that goal."
CBD Intact is located at 702 N. Blakely St. in Dunmore, just behind Burger King. For more information, call 570-561-3152, email cbdintact@gmail.com, or visit https://cbdintact.com.